Prague Pallas & Moravian Hellas
1902: Auguste Rodin in Prague and Moravia
25. 10. 2022 – 29. 1. 2023
Collective of authors: Hana Dvořáková, Magdalena Juříková, Helena Musilová, Vít Vlnas
In 1902, the French sculptor Auguste Rodin visited Prague and Moravia. This trip, associated with his largest exhibition abroad at the time, it was important not only for the sculptor himself but also for the indelible traces he left at the place he visited. It was significant for the generation of painters and especially sculptors of the time, for whom it helped to clarify the path towards a modern artistic direction, while it also foreshadowed the future orientation of the art scene towards French art. On the other hand, from what the artistic and social elite of the time considered important to show to this important visitor, we can also deduce essential information about the priorities and character of the era.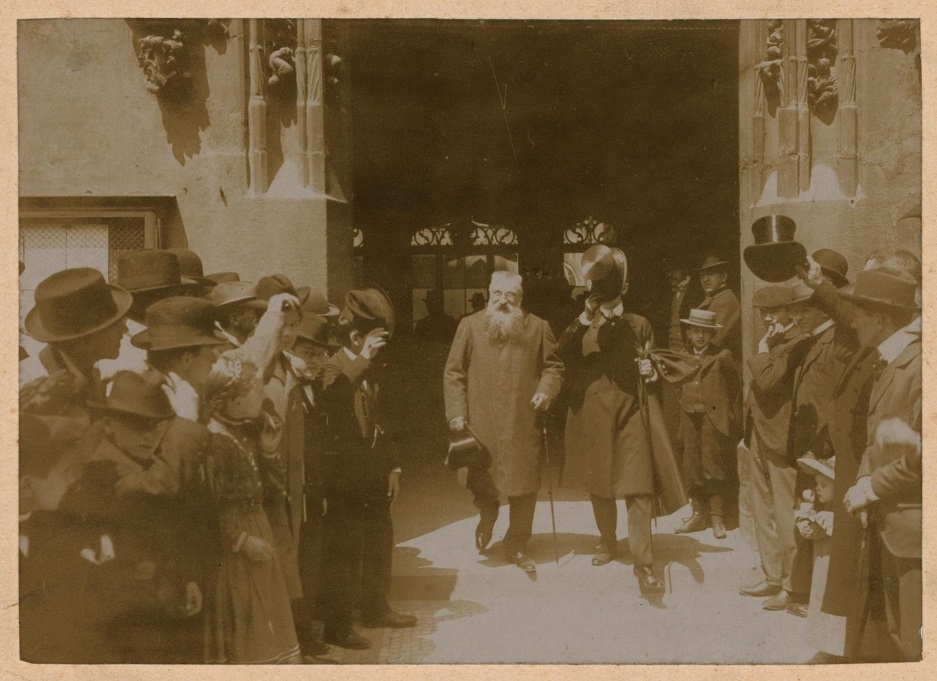 The exhibition and publication project, prepared in collaboration between the Prague City Gallery, the Ethnographic Institute of the Moravian Museum in Brno and the Gallery of Fine Arts in Hodonín, will for the first time systematically address the "accompanying programme" that was prepared for Rodin.

Based on a new study of archival sources, i.e. magazines, correspondence, personal archives, etc., it will try to outline the reasons why – and this is one of the main themes of the book – August Rodin came to Moravian Slovakia, where he visited the Exhibition of Slovak and Moravian Artists in Hodonín and where an almost all-Moravian-Slovak festival took place on the occasion of his visit ("Near the villages we passed through, the village official representatives, school children, dressed-up girls and perhaps even the whole village were waiting." Lidové noviny daily, 3 June 1902). The whole "festival" was an artificially prepared event made by request, unrelated to any specific events in rural life, such as holy days or other church festivals.

The key topics under review develop from that: the role of so-called folklore at the time, how it was presented to domestic or foreign non-Moravian visitors, and how its role changed, or how it was used in the sense of national representation in space and time. The project will attempt to explore the mechanisms of social structures as they were formed at the turn of the century, much of which persisted until the establishment of independent Czechoslovakia. Sub-topics will be focused on the Mánes art association, photography as an emancipating medium and its contribution to the creation of a "memory trace", etc.